Myway LLC participates in Amazon Services LLC Assoc Program. A small commission is received from all affiliate links & 3rd party advertising.

Making Dog Health Insurance Comparisons

Dog health insurance comparisons can help you choose the best coverage for your pet. Find out how to get the plan that fits your pup, your needs, and your budget right here.

---
Pet health insurance is becoming increasingly popular here in the US, and more and more companies are offering pet health policies for dogs, cats.. and even other small domestic pets.
This is good because it gives you, the customer, more options to choose from and allows for lots of comparisons to be made (eg. co-pays, deductibles, conditions covered, exclusions and much more).
But it's also not so great, because it can make the research you need to do much more time consuming, confusing and challenging.
We recently added a German Shepherd puppy to our family and I needed to find policy for him, so I decided to take a look around and see what new companies/policies/options etc. are available.



My extensive research led to a short-list of two companies, Embrace and Trupanion. In my personal opinion these two offer the best dog insurance plans with policies that are flexible and affordable.
So, let's take a look at what they offer and make some comparisons:
Best Pet Insurance Companies

Embrace Pet Insurance

Embrace Pet Insurance was founded in 2003 and offers a whole range of very flexible options.
That means you can build the insurance plan that's exactly right for both you and your pooch. It includes:
Customizable cover for accidents and illnesses
Coverage available for puppies from 8 weeks to 8 years (mixed breeds/hybrids) or 6 years (purebreed dogs)

Up to 90% reimbursement of veterinary charges
Quick claims turnaround (usually within 15 days)
Add-ons available such as a Wellness Plan, Dental Care Plan and coverage for prescription medications, catastrophes and more
The cost of the vet exam is covered

Most illnesses, accidental injuries are covered, including cancer and chronic conditions, breed-specific/genetic conditions and some alternative therapies are covered
Exclusions (what's NOT covered) include any pre-existing conditions, routine care, dental care
14 day waiting period for both illness and accidents before coverage becomes effective (6 months for orthopedic conditions unless you also include an Ortho add-on package)

$5,000 maximum payout per year

Discounts are available for pets who have been micro-chipped or spayed/neutered
Trupanion Pet Insurance

Trupanion Pet Insurance is a company who has been in the pet insurance business for over a decade, and is dedicated to providing simple, fair and affordable health insurance plans for dogs... and for cats too!

By offering one simple (but comprehensive) plan that covers accidents, illnesses, diagnostic tests, surgeries, medications and lab work, they take the guesswork and 'juggling' out of choosing the right protection for your pup.

With customizable premiums, no hidden fees and no payout limits this plan makes sure your precious pooch is well taken care of whenever veterinary help is needed.... without breaking the bank.
Their plan includes:
Customizable coverage for illness and accidents
Coverage available for puppies from 8 weeks to 13 years
90% reimbursement of veterinary charges
A customized deductible that YOU choose
Most illnesses and accidental injuries are covered including diagnostic tests, surgeries and medications. Partial coverage for prescribed therapeutic dog food
Optional coverage available for hip and elbow dysplasia, alternative treatments and more
Exclusions (what's NOT covered) include all pre-existing conditions, dental care, routine care, vet exam fees
5 day waiting period for accidents, 30 days for illness
No payout limits per incident, per year or over your dog's lifetime
March 2013 - Enhanced Trupanion Policy Coverage.....

Trupanion has just released the enhancements added to their Core Policy and also to their 'Additional Care Package' . 
They've also reduced the number of exclusions and hip dysplasia will now be covered under the core policy rather than an 'add on' so it's available to all enrolled pets!
The Additional Care Package now features 17 services including alternative therapies and includes: acupuncture, behavioral modification, bone marrow transplants, chiropractic, colloidal silver treatments, gold seed therapy, herbal therapy, homeopathy, hydrotherapy, hyperbaric oxygen therapy, kidney transplants, naturopathy, physical/rehabilitative therapy, and stem cell therapy... and more.

Get the full details here... Trupanion


Comparing Pet Insurance Quotes
In order to choose the best dog insurance plan for your needs, it might help to see how all of the above fits into a specific dog medical insurance policy.
The very best time to get dog health insurance is while your puppy is young and healthy, that way he's unlikely to have any pre-existing conditions that will be excluded, and any issues that might be there will be minor.

I got FREE quotes from several pet health insurance companies including the two I've featured on this page, so that I could make my own comparisons.
You can do the same, there's no obligation to buy, and getting a free online quote just takes a few minutes. All you need is an email address.
To find and compare dog health insurance plans for YOUR puppy or dog, just click on these links..... Trupanion or Embrace

Pet dog health insurance quote for a healthy 4 month old purebred German Shepherd puppy :
Embrace Pet Health Insurance
Policy Type: Budget Plan + Rx Plan

Premium: $27.08 per month
Deductible: $500 per year
Reimbursement of Vet Charges: 80%
Co-Pay: 20% of Vet Charges
Payout Limit/Cap: $5,000
Trupanion Pet Health Insurance
Policy Type: Only one plan offered
Premium: $36.33 per month
Deductible: $100 per incident

Reimbursement of Vet Charges: 90%
Co-Pay: 10% of Vet Charges
Payout Limit/Cap: None
Another company I looked at and considered is 24PetWatch Insurance :
Policy Type: QuickCare Gold
Premium: $69.95 per month
Deductible: $100 per incident
Reimbursement of Vet Charges: 90%
Co-Pay: 10% of Vet Charges
Payout Limit/Cap:
Accidents - $3000 per incident, unlimited per lifetime
Illnesses
- $3000 per category (ie cardiovascular/digestive/skin/infectious etc.) $36,000 per lifetime
Dog Health Insurance Comparisons - Hip Dysplasia Treatment

So, finally to help you pick the best dog insurance for your pet, let's pick just one condition and compare the associated costs according to each of the dog health insurance policies I shortlisted earlier on this page.
Dog health insurance comparison for hip dysplasia surgery and related treatment at a total cost of $5,000
Budget Plan +Rx Cover, monthly premium $27.08

Annual Deductible.... $500
20% Co-Pay.... $900
You end up paying $1,400, while the insurance company pays $3,600
With an annual maximum payout of $5000 you've reached your coverage limit for this year. Any other illnesses/injuries your pup needs treatment for will not be covered in the same policy year. At renewal you will have $5000 of treatment available again for the next year.
*But had this visit been for less expensive condition and cost perhaps $1500, your entire deductible for the year would have been met and any other issues that required care up to a maximum of $3500 (the balance of your annual allowance) would NOT have had a deductible to consider. Your only expenses would be the 20% co-pay

Trupanion Pet Health Insurance
Trupanion Plan (plus hip-dysplasia add-on), monthly premium $48.35
Per Incident Deductible.... $100
10% Co-Pay.... $500
Vet Exam Fee.... $50 (estimated average, varies by vet and location)

You end up paying approx. $650 while the insurance company pays $4,350
There are no payout limits either per incident, per year, or over a lifetime so all future illnesses/injuries will have the same coverage as above.
*But you will need to pay the deductible and vet exam fee for every single incident.
Remember that regardless of the policy/company, you'll need to pay the full amount at the time of treatment, the payout comes as a reimbursement afterwards.

This isn't as bad as it sounds! Most of us could beg, borrow or otherwise scrape together enough - or even use a credit card - if we only needed it for a couple of weeks.
Waving goodbye to that much money is a whole other story though, and that's what happens if you don't have an insurance plan for your dog!

Glossary Of Terms For Pet Health Insurance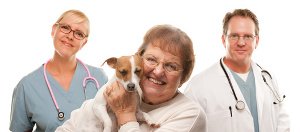 To be sure you're choosing the best pet insurance you need to understand exactly how teach of the pet insurance plans work, and what they're offering.
Many times you're not comparing 'apples to apples', and making accurate dog health insurance comparisons will be easier if can interpret the language.

There is a LOT of fine-print, and a whole host of terms, that all pet health insurance companies use to describe their policies.
If this is your first time to consider buying pet dog insurance you could be totally forgiven for feeling more than a little confused by it all!
To help you out I've put together a short list of the most common terms used in pet health insurance plans, and their meanings....
Co-insurance (also known as co-pay)
- the percentage of the vet bill that YOU are responsible for paying after you have met your deductible

Deductible - the dollar amount that you need to pay before the insurance company starts to reimburse you. This may be a set amount per incident or per year.

Exlusions - medical conditions that are not covered by the insurance plan you have chosen

Pre-existing condition - an illness or condition that your pet suffered from (or showed symptoms of) before you signed him up for health insurance, or that appeared during the waiting period

Premium - the dollar amount you pay each month for the insurance policy

Waiting Period - the time between signing the pet insurance contract forms and when the insurance actually becomes effective

Benefit schedule - a set dollar amount that some insurance companies will pay for a particular condition as opposed to a percentage of the actual vet bill you receive.

Payouts -

*Maximum payout per incident - the maximum dollar amount the insurance company will pay out for a particular injury or illness.

*Maximum annual payout - the maximum dollar amount the insurance company will pay per year towads your pet's veterinary care. This applies to any/all conditions, once you've reached that figure you won't get any more money towards vet care until the start of the following policy year (ie the policy renewal date)
<< Dog Health Insurance Comparisons