Myway LLC participates in Amazon Services LLC Assoc Program. A small commission is received from all affiliate links & 3rd party advertising.

Meet The Experts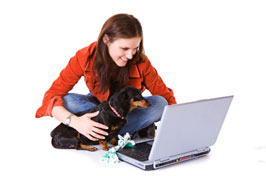 You don't need to be any type of expert to own a puppy, and most of us learn as we go along... sometimes learning the hard way!
But it never hurts to have a little advice or help from people who DO know what they're doing. So, I thought I'd give you a chance to hear what professionals in the dog care arena have to say/share.
This is a section that will be growing over the next few months so feel free to 'bookmark' it and check in again to catch up with the latest additions.
With that said, I am enormously grateful to everyone who's contributed to this page for so generously sharing their opinions, wisdom and viewpoints with all of us.
Why not grab yourself a cup of coffee, make yourself comfortable and pick your favorite - or why not read them all?
You're bound to learn a LOT, and have fun in the process. Happy reading....
Back To Top Of Page