Nov 08, 2016
Rowdy to the Rescue!
Rowdy is a purebred black Labrador Retriever who started to show symptoms of Vitiligo (loss of pigment in skin/hair) when he was 12 years old.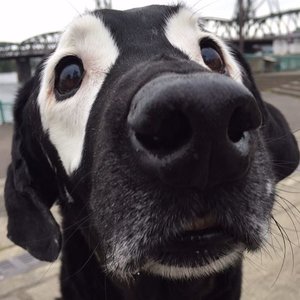 Rowdy's mission in life now is to spread awareness of this condition and to help children with Vitiligo feel confident in their own skin.
It's a condition which affects between 1 and 2% of the human population worldwide, and the most famous Vitiligo sufferer was probably hugely talented Michael Jackson.
Vitiligo is an skin disease which has a genetic (inheritable) component.
Certain breeds are more likely to develop it than others, these include the Belgian Teruven, German Shepherd, German Shorthaired Pointer, Rottweiler, Doberman Pinscher, Dachshund, Husky and Old English Sheepdog
Research is still being conducted to determine exactly what triggers the Vitiligo symptoms, but it's currently believed that a problem with the immune system, infection, exposure to toxins and/or neurological issues are all factors.
Regardless of what causes it, Vitiligo can cause a dramatic change in appearance and although affected dogs don't realize that they look different, affected children (and adults) are very aware of it.
Rowdy has teamed up with the Vitiligo Research Foundation and together they aim to help both kids and adults embrace their altered appearance and to promote acceptance of differences, as well as seeking treatment which does not require animal testing.
Click on the link below to visit Rowdy's Website and learn more about this beautiful boy and his mission.